Way back in June, I met a great crafty and creative mom named
Denise
. I learned she was also incredibly generous when she offered to sponsor a
giveaway
through her Etsy Store,
Whimsy Couture
.
After earning a degree in business management, Denise realized her true passion was designing. She began creating Barbie dresses and then began making things for pets of all kinds! In September of 2004 her first child was born so she turned her love of designing doll and pet cloths to baby clothes.
Want to know how she came up with the fun name for
her store
? Denise's favorite things to make are anything whimsical! She loves appliques, ruffles, and mixing fabrics. But, you will also find very classic, timeless garments in solid colors in Whimsy Couture.
Denise mainly sells her clothing patterns but she also sells some of her custom creations. I was super happy to win one off of
her blog
earlier this month--an adorable Halloween Romper for Cutie Face to wear on all her Fall/Halloween outings.
We wore that romper out but Cutie Face
still
asks for it--seriously, she loves that dress so much that if she isn't begging to wear it she is dragging it around the house like a security blanket and loving on it.
You can see millions of pictures of Cutie Face in this outfit on our family blog (esp.
this post
!)
Make sure you check out Denise's fun
blog
(full of giveaways and crafty how-tos!).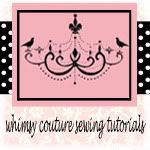 And, as always, feel free to sign up to be a Featured Follower (just submit your information in the spreadsheet found at the bottom of
this post
)