I just found a neat blog through another blog called
Dancing Barefoot on Weathered Ground
. Just the name of the blog was enough to pique my interest so I had to go check it out.

While visiting I saw that Lynette was hosting a "Harvest of Friends" blog party and thought it would be a great way to jump into the fun her blog. i also, shockingly, enjoyed doing the last "all about us" post so i decided to take advantage of that feeling (usually i drag my feet when filling out questionnaires).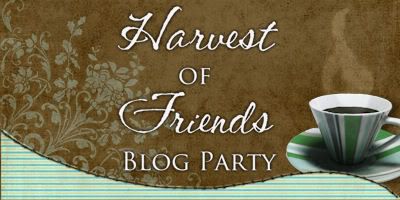 1. What is your favorite thing to snack on while you're blogging?
Currently? Candy corn, no question (see my last Tutorial Tuesday for proof!). Usually? Air-popped popcorn. Love that stuff.
2. What is one thing you wouldn't want to live without?
I could never live a fulfilling life without knowing that i was created with a p
urpose by my Father in Heaven, to live to glorify Him because He saved me, a sinner, through His Grace and Mercy!
3. Beach, Mountains or Farm? Where would you live if you had a choice?
ooooo. Mountains. With a lake. Specifically, Eagle Lake in Pike's Peak National Forest. Oh wait...that is where the Navigator's camp is. I just have SUCH fond memories of it!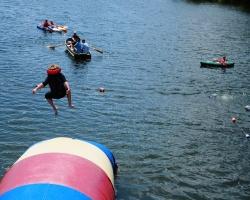 J and I were just discussing this topic yesterday! He said he'd choose farm...something I never knew about him until then!
4. What's your least favorite chore/household duty?
i never thought i'd say this (because i used to love it!) but it is the FOLDING of the laundry.
5. Who do people say you remind them of?
i have no idea....so i asked my husband, J. And he said (also never knew this until now! i cannot believe how informative this questionnaire is!) Angie Harmon. huh. interesting.
i always fancied myself more of a Sandra Bullock kind of girl--down to earth and a little nutty!
6. Prefer parties and socializing or staying at home with the fam?
ask my parents and they'll tell you I'm a homebody. I like being out but once i'm in, i'm in, and it takes A LOT to get me back outside. How about socializing at small parties at home? now THAT I love!


7. What's your all time favorite movie?
i love Sleepless in Seattle and that is the only movie coming to mind right now so i'll just stick with that. I'm sure i could think of something better but for now that is my answer.


this past Christmas we stayed on a houseboat a few rows down from the houseboat in the movie! that was cool!
8. Do you sleep in your make up or remove it like a good girl every night?
Oh no no no i never sleep in my makeup (primarily because i NEVER wear makeup but that wasn't the question!)
9. Do you have a hidden talent or a deep desire to learn something that you've never had a chance to learn? What is it?
hidden talent: i can contort my face to look uncannily like a monkey (no wonder i one day ended up writing a blog called "Monkeys on the Bed!")
.


I guess a true talent (but maybe not so "hidden") is my running ability--I really like what Eric Liddell, missionary to China and Olympic runner (made famous by the movie "Chariots of Fire") said, "I believe God made me for a purpose, but he also made me fast. And when I run I feel His pleasure."
deep desire: i'd love to learn the fine art of photography. First i'd need a real camera, though. in highschool, though, i signed up every semester for the pottery class elective and i was never once placed in it. i always wanted to take that class but i think that "longing" has since past.

10. What's one strange thing you're really good at?
see above--my monkey face is pretty funny but very strange
.
Take note that these last two questions have no pictures attached...there is a reason for that!
11. What first attracted you to your spouse?
his humor, love for people, and singing/guitar playing ability. i saw all of those on display the first time i met him at the InterVarsity Freshmen Retreat
12. What is something you love to smell?
oh my oh my oh my don't get me started on this question. I'm notorious for my nose. i feel this strange compulsion to smell nearly everything. my parents tease me endlessly for always smelling my gifts that i open on Christmas morning. But, hands down, i love to bury my head in my freshly cleaned sheets as i go to bed at night. nothing beats that first night's sleep on freshly cleaned sheets!
13. Tell something about you that you know irritates people.
i used to chew ice all.the.time. now it annoys me when i hear people do it. Currently i'm sure i irritate people with my incessant talk about 1) my daughter and 2) cloth diapering ;-o
14. When you have extra money (HA!) what's the first thing you think to do with it?
i think i'd put it towards a fund for our future children that we hope to adopt
15. Are you a silent laugher or a loud laugher? What makes you laugh the hardest?
my mom would say i'm a loud laugher though i'm embarrassed by my laugh. i think it sounds way too goofy.

i laugh at a lot of things but one thing that always gets me are inane "headlines" from Jay Leno's show. my favorite being one about a cat being named "Fire".


I also love Jay's commentators especially some of Mitch Fatel's blurbs (though i just watched a few of his youtube videos to be sure i was thinking of the right guy and he is a bit raunchier than i remember! bummer!)
16. Where is your favorite place to shop?

if you based "favorite" on

"most frequented" it would be Target, CVS, or Publix. but favorite as in "i-can-have-anything-i-like"?

hmm that is still tricky! i love Anthropoligie for their great displays (ingenious, really) and their clothes are great and their candles are scrumptious!
17. What's one thing you'd do more often if you had more time?
oh i'm so frugal. except i like to splurge on candy corn. i have no issues buying a bag a day!
19. Who is your favorite character of all time (from a movie or book)? (Can't be real)

ugh i hate questions like this. i love so many books and movies. before we were married, i was always infatuated with the characters that Meg Ryan played
.
something about her romantic comedy cuteness that i wanted to emulate. now...hmmm...i don't know.

i guess i could revert old-school and say Caddie Woodlawn. i loved her (two) books and always wanted to be a pioneer girl like her...part of the reason that Kirsten was my favorite American Girl doll, too!
20. Would you want to be famous?
nope never. i'd embarrass myself in an instant and i live in fear of doing that on a daily basis with the few people i come in contact with everyday!