Much to be thankful for this week but I want to start with the one that i am most thankful for:
1. God's incredible Grace and Mercy of forgiveness that allows me to start afresh despite my many many shortcomings.
Okay. i just wanted to highlight that one!
2. My Thursday morning girls. I love meeting with them early every other Thursday morning for fellowship over the Word and sharing where God is leading us. Those mornings are priceless
3. Meeting new people through the
"Harvest of Friends" Blog party
. If you missed my post but would like to learn more nuances about myself, check it out
here
!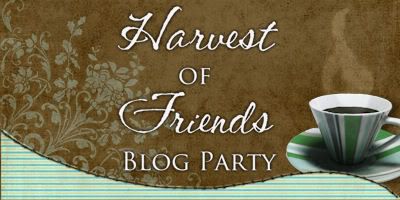 4. My 80-year old grandma started making Cutie Face #2 a baby blanket. Cutie Face is attached to her blanket from her "GiGi". It is the #1 comforter to her, over me or J! She takes that thing with her everywhere and it cures all problems. Not only does Cutie Face #1 love her blanket, but we love it because of that!
5. Oh my head! I was honored and shocked beyond belief when I saw that
I received 2nd place
for my
"Excitement" entry
on i ❤ faces. Ummm WOW. Thank you SO MUCH! (if you want to see more excited bubble pictures from that day, check out
this post
).
This week's theme honored Breast Cancer Awareness--there are some excellent entries and i encourage you to
check them out
!
6. J's company sponsored a Pumpkin Patch day and we had so much fun exploring a new part of Georgia (some call it a suburb of Atlanta but we feel that is extreme :)
7. A great doctor's appointment that let us know Cutie Face #2 is doing really well, measuring great, and one happy kicking kiddo. We can't wait to meet her in February! Just 16 weeks to go (ahhhh!) Poor kid is already suffering from second child syndrome--i don't have any pictures of her latest ultrasound uploaded or shared!
8. The lovely "Leaves" scented candle from Bath and Body Works. J and I fell in love with the scent last year (when it was called "Autumn Leaves") and finally bit the bullet and bought a smaller version of it--divine!
9. Oh this was so fun, too--Rachel from the crafty-fun blog
One Pretty Thing
, featured my
tutorial
from this week! Thank you SO MUCH Rachel!
10. The relationship between J and Cutie Face. You don't know how much my heart overflows with thankfulness to see how excited Cutie Face gets when she sees her daddy:
And one to grow on...
11. Cutie Face has been really quite sick with a nasty little cold. She's had a green runny nose and, for the past two days, a very hacky little cough. Despite how sick she must be feeling she is so happy. This picture was taken on one of her worst days and she just has the most joyful spirit. We cannot be thankful enough for it!
I'd really love to hear what YOU are thankful for this week!